'
I'm excited by the idea of well-designed, affordable housing,' says Lee Thornley, who created this beautiful barge, now moored on the Regent's Canal in London. It's conveniently tied up outside the HQ of Thornley's interiors firm, Bert & May, so he stays here while working in the capital, before zipping back to his family home in Yorkshire. 
Creating the barge was more than just a means of dodging a long commute, though; it was a chance for Thornley to flex his design muscles and experiment with small-space living. 'I wanted to see whether it was possible to create a beautiful home in the UK for less than £150,000,' he says.
Thornley's barge proves it is. Constructed by a boat builder in Liverpool, it took eight months to finish and was completed in April 2015. Quality materials and stylish furniture, much of it vintage, mean this floating home has all the style and comfort of a conventional bricks-and-mortar house, despite its petite dimensions. 'Any space can be beautiful if it's designed well,' says Thornley. 'The barge is filled with light. It has double glazing and underfloor heating and there's an Italian bathroom in here, too, for an extra touch of luxe.'
Houzz at a Glance
Who lives here Lee Thornley, founder of design firm Bert & May, which sells reclaimed and new tiles, reclaimed wood and vintage furniture
Property A newly built barge measuring approx 14.5m x 3.5m
Size 1 bedroom, 1 bathroom
Location Regent's Canal, Bethnal Green, London
'Unlike a traditional canal boat, the barge has been stripped back to create space, rather than being crammed full,' says Thornley. He is not a fan of TV, so has not included a screen in the living area.
The canal where the boat is moored is peaceful and quiet. 'We get ducks swimming by and a coot was raising its chicks alongside us,' says Thornley. Passers-by often pause to admire the barge, too. 'A huge number of healthy-looking young professionals jog past regularly,' says Thornley. 'People sometimes take pictures, ask us what we're doing or shout "nice boat!"'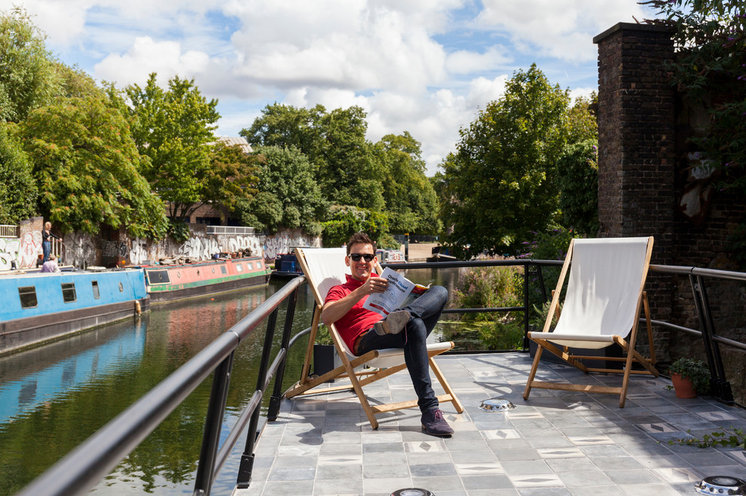 Thornley designed the roof so it could become an additional place to sit and relax. 'I wanted to use the roof as a proper terrace,' he explains. 'It's the most amazing space, but on traditional barges and canal boats, it's not used much.' 
The original sloping design made it tricky to adapt, and Thornley and his team had to engineer a whole new roof. 'We forgot we'd have to go under bridges,' he laughs. 'Once we'd fixed the railings on we realised it was too high. We took them down and fitted knee joints in them, so they fold down now.'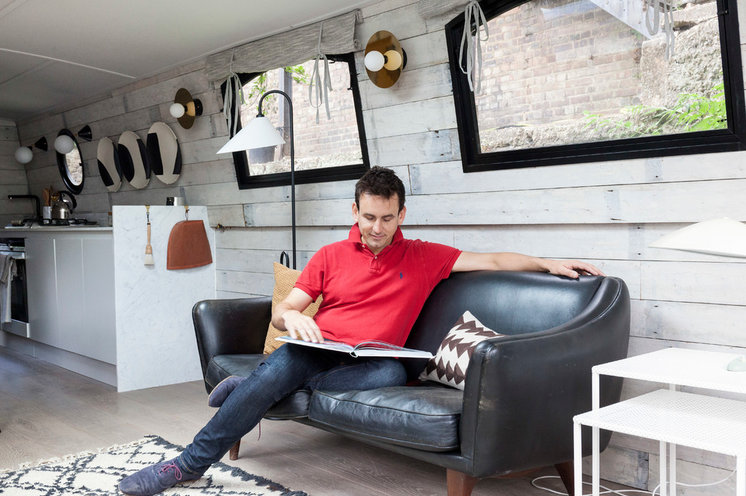 When creating the barge, Thornley moved away from the traditional built-in designs usually found in small-space homes. 'Why not have a vintage Danish sofa?' he says. 'Why do you have to have a banquette?'
Furniture sits beautifully within the space, rather than being built into its structure. 'If you build everything in, it almost seems as if you're only interested in squeezing maximum efficiency from the space, rather than maximum beauty,' says Thornley. 'This is a perfect home for a single person or professional couple, for someone who wants a beautiful, simple life.'